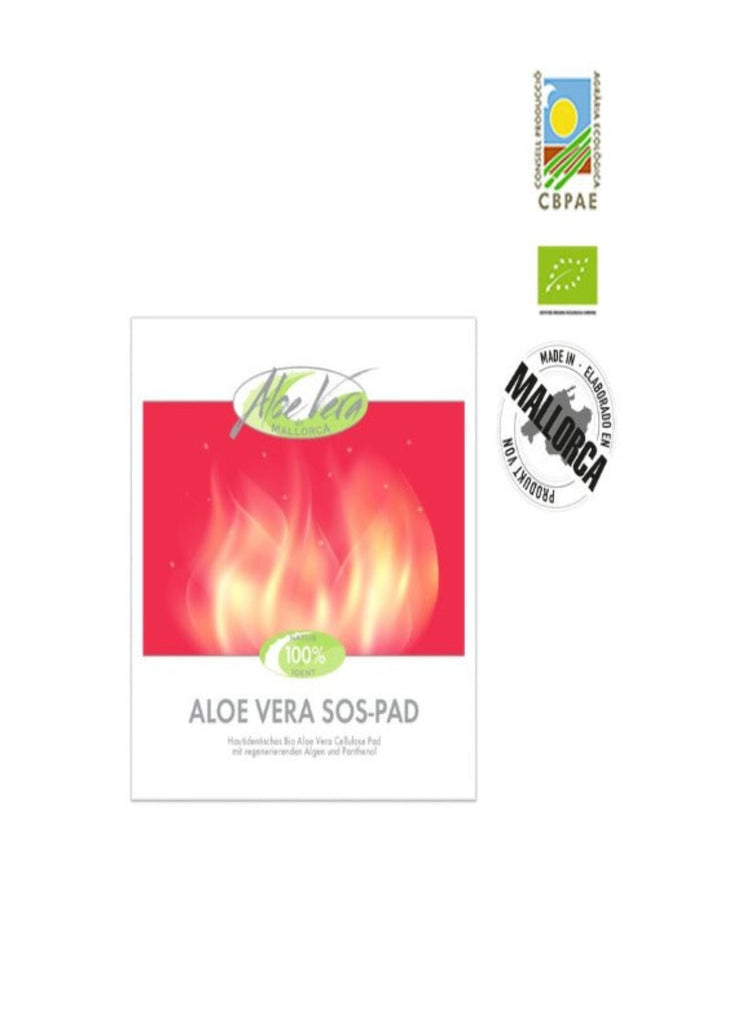 Skin-identical Aloe Vera SOS Pad with a unique composition of its active ingredients. Thanks to a new manufacturing process, this pad is able to moisturise the skin very quickly and thus transport the active ingredients into the skin very quickly. The use of AntiLeukin-6 algae extract, which has developed the natural property of "actively" repairing burns and sunburns over millions of years, in combination with all the ingredients of aloe vera and skin-soothing panthenol, makes this SOS pad ideal for treating burns, sunburns and injuries of all kinds.

Special microorganisms create a kind of bio-cellulose within a few days, which corresponds to the body's own collagen matrix. Vegetable membrane lipids and AntiLeukin-6 algae extract as well as panthenol additionally form a lamellar structure between the fibres, which corresponds to the skin's own protective barrier. This enables above-average treatment results to be achieved. The natural protective skin barrier is strengthened and the skin appears firmer and more youthful. The very fine nanofibres adapt perfectly to the contours of the skin, allowing moisture and active substances to be optimally delivered to the skin.
The biomaterial obtained in this way is also used as artificial skin for extreme burn injuries and for the treatment of chronic wounds. The fibres resemble the body's own collagen and supply the affected skin areas with moisture and nutrients, while the membrane lipids strengthen the skin's own protective barrier and protect it from environmental contamination.
After dermatological procedures, the skin is irritated and sore. It needs a rest period to recover.
Especially after small invasive procedures, such as wrinkle injections, minor corrections, microneedling, fruit acid peeling, laser treatments, Aloe Skin provides an extensive and long-term supply of moisture to the skin and a constant, gentle cooling, without chemical additives or preservatives. No chemical additives or preservatives.
Our SOS Pad ensures long-lasting cooling and provides the skin with moisture over a long period of time ,the important ingredients of Aloe Vera and all other active ingredients. Immediate help for reddened and irritated skin Cools, protects, soothes and regenerates the affected skin areas immediately.
Active ingredients:

Aloe vera, phosphatidilcholine, AntiLeukin-6 algae extract, panthenol.

Free from

Emulsifiers, preservatives*, mineral oil, parabens, PEG, animal testing, nano-materials and microplastics.
(* according to law)
Contents: 0.05kg